Content is king.
Everything that you put on your website, post on social media, write in a blog or send in an email is your content. Whether it is text, an image or video, the quality and relevance of your content are major factors in your viewer's impression of your brand and its effectiveness in converting them from a viewer to customer.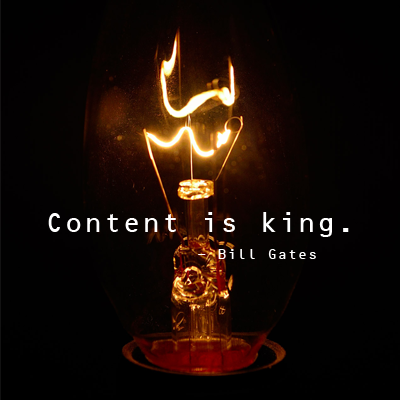 At Spark Media Collective, we believe in 4 basic elements of effective content:
Targeted Content
Even if your company has a variety of different target markets, creating content that speaks to each one individually will garner far better results than being so generic that you appeal to no one. Identify your audience, create content specifically for them and choose the appropriate distribution channel to get in front of them. Not only will they see your message, they will connect with it.
Timely Content
Be in the present. Stay on top of current events and news in your industry and let your audience know how it can help them. Whether you are a service provider, retail store or manufacturer, by keeping a finger on the pulse of your industry, it not only helps you stay current, but allows you the opportunity to share your expertise with your customers.
Relevant Content
Every person that purchases a product or service is solving a "problem". That problem may be wanting a new article of clothing or needing to replace a computer or having to do their taxes. Your content should offer solutions to your customer's "problems".
Consistent Content
Create a schedule to distribute your content and stick with it. We all get busy and things can fall by the wayside, but if you have a consistent stream of content, your audience will begin to look for your latest post or email. Plus, it helps keep your distribution channels feeling fresh and maintained.
Content is the reason search began in the first place.
- Lee Odden
Our Content Creation Services:
Social Media
Social media is an animal that is always hungry. We can help feed that animal with a schedule of engaging, relevant content for all of your social media platforms.
Blog
Blogging is one of the most effective ways to establish credibility in your industry, provide a resource for your customers and rank higher in SEO with fresh and relevant content.
Website
Your website content should attract, inform and convert your viewers into customers. We create content for your website that is aligned with your brand and targeted at your customer.
Email
Email marketing isn't dead, it's evolving. It's still one of the best ways to personally reach your audience. We can create email marketing campaigns and newsletters to stay in touch with your customers.
Visual
Photos, video, graphics, memes, slideshows…these are all types of visual content. Spark Media Collective can help you create quality visual content that is relevant, engaging, and aligned with your brand for all of your online channels.